Seagaia Horse Riding Club- UMAIRU
A horse riding ground opens at SEAGAIA Square 2!
Seagaia Horse Riding Club, located in a green-rich pine grove, welcomes anyone from beginners and children to those being keen to learn horse riding, to enjoy horse riding experience.
• Anyone including beginners and children can enjoy horse riding.
(The club staff ensures the safety of the guests by guiding horses.)
• Those who choose a mini-course horse-ride in the pine groves that are surrounding Seagaia Square 2.
As you go along hilly paths in the pine groves, you feel as you are experiencing 'real' horse riding holding a bridle. Also the view you have on a horse is enjoyable as it is different to what you usually see.
• We welcome those who just want to have a look. Looking at horses' pretty eyes will give you a calm feeling.
Please come and watch horse training and feeding around 9am, which is before the business opens. (free of charge)
Horse Riding Mini Course (approx. 15 minutes)
The course is recommended to those keen to learn about horse riding. It is safe for beginners and children.
Enjoy the moment when you become one with a horse connecting with a lead.
| | |
| --- | --- |
| Price | ¥3,000 per person / ¥2,500 for 3 years old and under |
* Parents must accompany with children at 3 years old and under.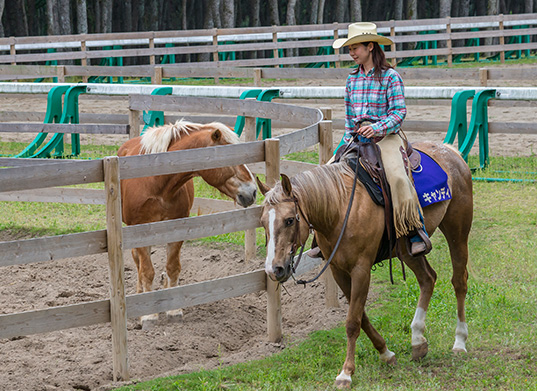 Horse with Lead Course (approx. 5 minutes)
Our friendly staff holds a lead on a horse to maintain safety even for beginners and children. Feel the temperature and enjoy the views from the top of a horse.
| | |
| --- | --- |
| Price | ¥1,200 per person / ¥1,000 for 3 years old and under |
* Parents must accompany with children at 3 years old and under.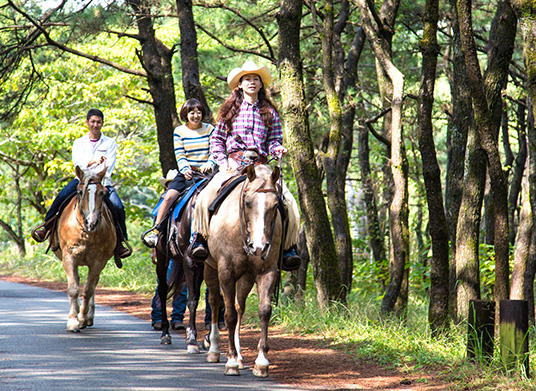 Ocean View Course (approx. 60 minutes)
With the Ocean View Course, you can enjoy horse riding through both black pine groves and a coastline with salty breeze.
From the pine forests, the horse riding tour travels to a wide Hitotsuba Beach.
Limited to this course, it commences on weekdays (closes on Tuesday, if Tuesday is public holiday, we close a next day.)
| | |
| --- | --- |
| Price | ¥13,000 per person (two or more people in one group) / ¥15,000 for only one participant |
* Reservation is essential that must be placed by 5PM on a previous day.
* The participants must be an elementary school student or older and must have experience of hacking or the horse riding mini course.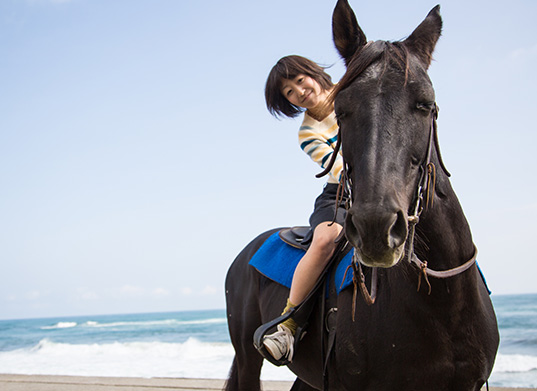 Guidance of the business
Location
SEAGAIA Square 2
Business Hour
Saturdays, Sundays, and holidays 10:00 - 17:00
Open during December 30 – January 3

* It may open on non-regular business days depending on timing and seasons.

* The course closes when it rains.
Reservation / Ccontact
Activity Center / Phone : 0985-21-1324
Rental bicycles
The surrounding area of Seagaia is a great cycling area. Go ride through the beach and pine forests.
The pine groves of the Hitotsuba area are praised as the biggest and most beautiful in Japan!
There are also real sports cycling courses.
(We have road racers and easy-to-ride cross bikes.)
Business hours
8:00 – sunset
Venue
AWithin the activity center
Reception of Luxze Hitotsuba
| Menus | Time | Price | Additional price per hour |
| --- | --- | --- | --- |
| Rental bicycles | One hour | ¥550 | ¥350 |
| Bicycle hire (electric) | One hour | ¥850 | ¥350 |
| Two seater | One hour | ¥1,100 | ¥700 |
| Sports bicycle | One hour | ¥1,100 | ¥1,000 |
* Bicycles may not be available for hire on some days.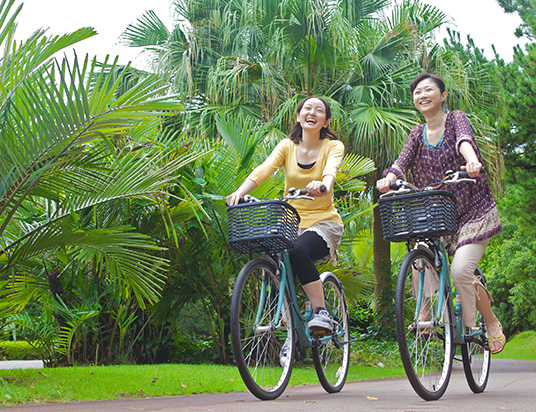 Nordic Walking
Nordic walking through the beautiful natural forests.
Our walking course became the first internationally accredited course in Asia in October 2010 after the beautiful nature of the surrounding area of Phoenix Seagaia Resort and the safe environment that is easy to walk were acknowledged. There are three different courses that cater for from beginners to those in training. You can choose one that meets your physical conditions and your taste. The whole of Awakigahara Forest Park mainly Sheraton Grande Ocean Resort offers the best environment for the enhancement of physical conditions and sport training.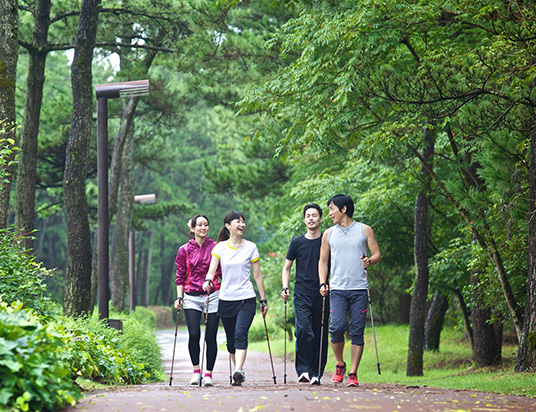 Nordic Walking
Five to ten minutes of Nordic walking provides fitness benefits!
Nordic walking developed out of the ski walking used by Nordic skiing athletes to maintain and improve their strength during the summer. It is an easy form of walking exercise using polls.
Nordic walking consumes more energies than usual walking, so the fitness benefits can be highly expected!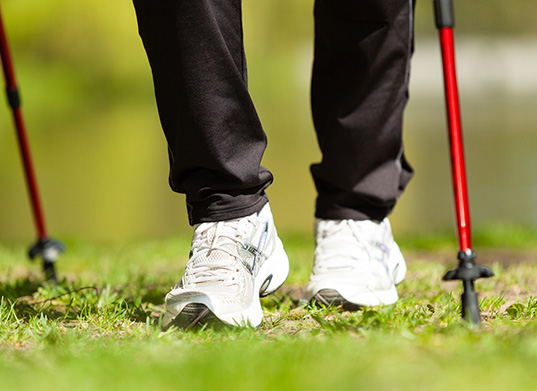 Benefits of Nordic Walking
1Compared to regular walking, heart rates increases by approx. 13% with Nordic walking.

2Compared to regular walking, Nordic walking is estimated to produce an average of 20% increase in energy consumption.
(some data shows up to a 46% increase!)

3Pains and tensions in shoulders and neck can be eased by the movement of shoulder blades.

4The exercise provides flexibilities between neck and back in a lateral direction.

5Muscles used the most are those of the upper arms that stretch and shrink, those around the shoulder blades, greater pectoral muscles, and broadest muscle of back.

6Nordic walking consumes approx. 400kcal per hour (the energy consumption of regular walking is approx. 280 kcal).

7It is a safe sport with walking sticks that support us on a slippery path.
* Reference: Japan Nordic Fitness Association.
Try to do exercise for between 30 minutes to 2 hours depending on the strength and exercise habit of individuals.
Maintain the same walking speed to keep your heart rate around 120 – 150 per minutes (*1).
* The rate varies between individuals.
* Cooper Institute research, Research Quarterly for Exercise and Sports 2002 publication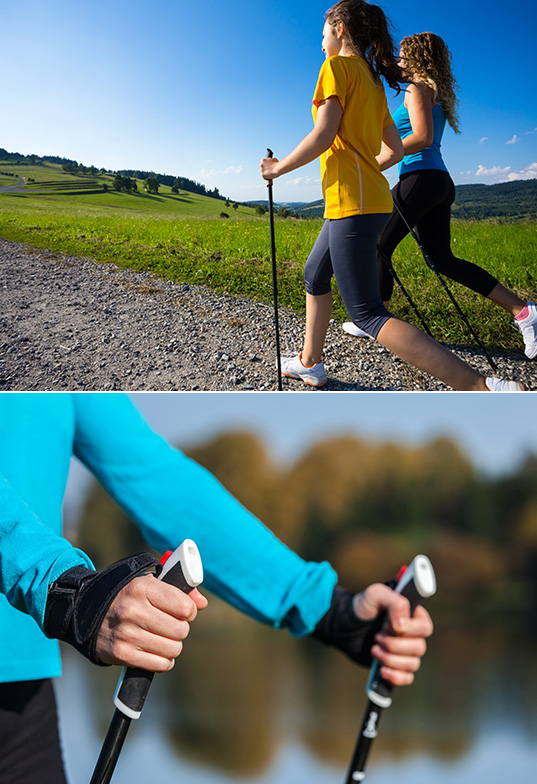 Key points of Nordic walking
• The basic length of the polls to be used for Nordic walking is determined by your heights x 0.68.
• The length of the polls should be adjusted depending on your heights and physical strength.
• Grub the polls lightly and swing your arms back and forth in a balanced manner.
• Stretch your back, and bring your arm to the waist when bringing it to back while looking in distance.
• Your upper body must be slightly tilted forward along with the movement of the polls, and walk with a long step.
• The poll should be placed between steps.
• Put your foot with a heel to the ground, then together with thenar muscles, push your toes to the ground gently to step forward.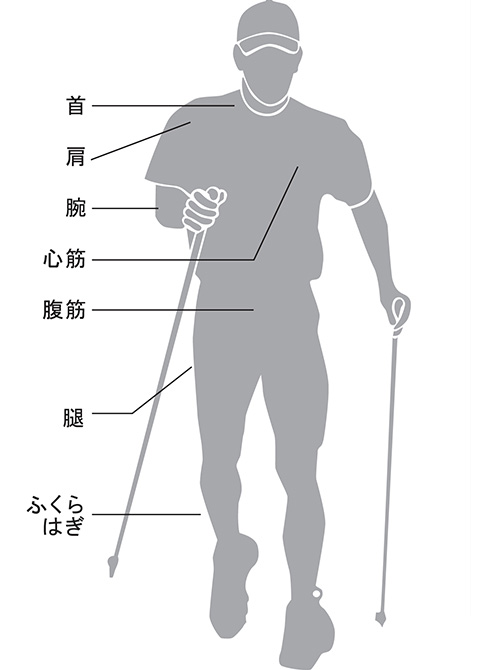 Information on our Nordic courses
The three courses are beautifully maintained to provide a fun experience to our guests so they can enjoy walking through pine groves that are filled with phytoncide.

1. Circling around the pine grove surrounding Seagaia
Parkway & Black Pine Forests Circle Course
Distance / 9.5km
Difficulty level / High
Slope / Flat (some parts are slightly hilly)
Starting point /
Sheraton Grande Ocean Resort

2. Visit to Florante and English Gardens
Kokusai Kaihin Entrance Plaza Course
Distance / 3.5km
Difficulty level / Medium
Slope / Flat
Starting point /
Sheraton Grande Ocean Resort

3. Walking through the origin of the Himuka Myth
Citizens Forests / Spiritual Course
Distance / 3.3km
Difficulty level / Medium
Slope / Flat
Starting point /
Sheraton Grande Ocean Resort
Team Building Menus
Starting Nordic Walking during your stay at Seagaia helps you establish healthy life.
The tour is led by an instructor to walk along an Asia's first internationally accredited course, which expands around the hotels.
The mental Nordic walking can ease your brain stress, which you usually gain at a tough meeting. It is recommended to a group with 10 – 60 people.
Price 1,000 yen per person with a group with 10 people or more (including an instructor and rental polls).
For physical training during a sport camp
Proper postures are required to maintain a muscle balance of your whole body during a basic training of any types of sports.
If you wish to have instructions on proper forms of the walking, we can organize an instructor from Phoenix Seagaia Resort, or national coaching instructors with the help of the Japan Nordic Walking Association.
* Reservations are essential. (please contact us for prices)
Polls for rent
Enjoy Nordic Walking with no stress by renting special polls.
Specially designed polls are a necessary item for Nordic Walking. The rental service is recommended to those who wish to walk along the course following the signs on their own.
Rental fees / a set of polls 500 yen per hour (300 yen for an additional hour)
Rental office / Activity Center
Business hours / 9:00 - sunset
Polls for sale
You can purchase polls to start Nordic Walking for a daily exercise.
The benefit of Nordic Walking is maximized by walking in an adequate posture for three times a week for 30 – 45 minutes each time.
Sales office / Activity Center (an example price / 9,975 yen per set)
Sheraton Grande Ocean Resort Activity Center
Hamayama Yamasaki-cho, Miyazaki City, Miyazaki Prefecture
Reception Hours 8:00-19:00
(the office opens until 20:00 on a day before holidays and during a holiday period)
Phone : 0985-21-1324 E-mail : activity@seagaia.com
* It may take long to reply to you via email.
* Please ring us for an urgent matter.
A Country of Myth / HIMUKA Spiritual Tour
The areas around the resort are a treasure box of stories related to Himuka Myths.
Guided by a storyteller of the myths, the tour visits power spots of the origins of the myths including Misogi-no-ike and Eda Shrine.
The tour participants receive a lucky charm from Eda Shrine, which enshrines Izanagi-no-mikoto, the God of Kuniumi.
Price
¥1,500 Per person
Hour
Morning 10:00 (Approx 90 minutes ) * This is a walking tour.
Afternoon 10:00 (Approx 90 minutes ) * This is a walking tour.
Persons
The tour is commenced with one participant or more.
Appointment
* Reservations must be made by 17:00 a day before a tour day.
* The rental service may not be available on some days.