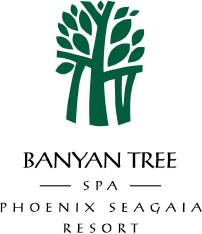 The award-winning spa is admired by celebrities all over the world.
The globally accepted spa resort offers luxurious experience, which you can enjoy only at Seagaia in Japan.
The world best spa brand, loved by many celebrities in the world, was born in Thailand. You can experience the world top level healing techniques only at Seagaia in Japan. At this spacious, sophisticated space with a splendid view of the Pacific Ocean, you will feel your five senses becoming sharpened as your heart is fulfilled with satisfaction.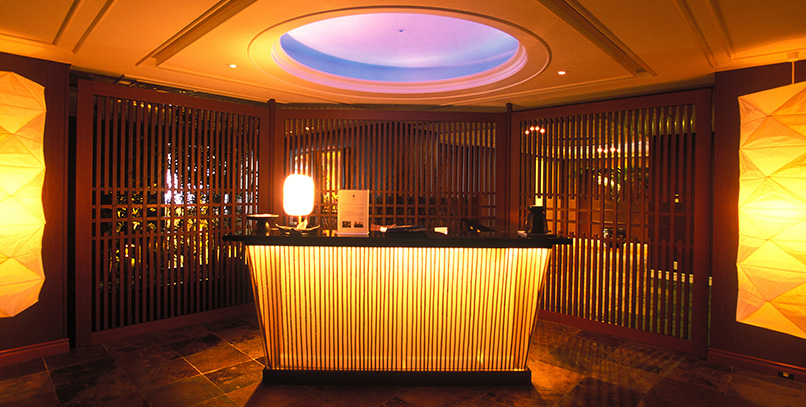 The rebirth of your beauty by stimulating five senses
From the moment you arrive at the 39th floor, you are in the world of healing. The signature treatments of Banyan Tree Spa, given along with gentle music and soft lights in a space filled with their original oils and scents, provides you with the natural beauty and quietness. As your five senses are sharpened, your body and soul will be reborn.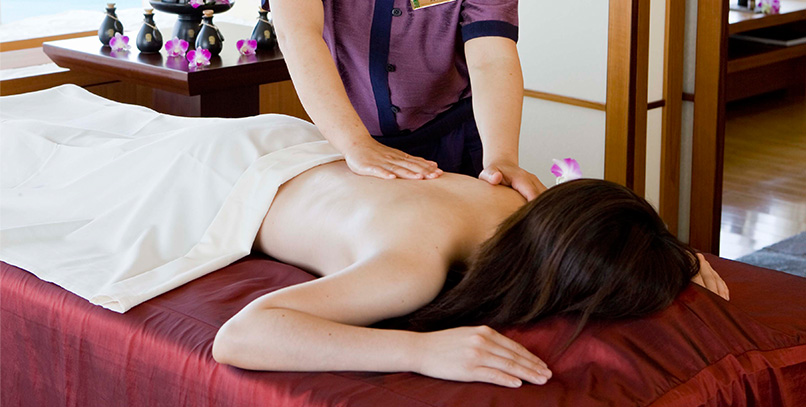 The motto is "high touch & low techs".
Banyan Tree Spa minimizes the use of machines to provide real touch of healing.
The spa believes that only the warmness of the temperature of a therapist can gives real relaxation to the core of your body. The oils and scrubs that are used for the treatments are made with natural ingredients. You will have real satisfaction that you will never be able to have with machines.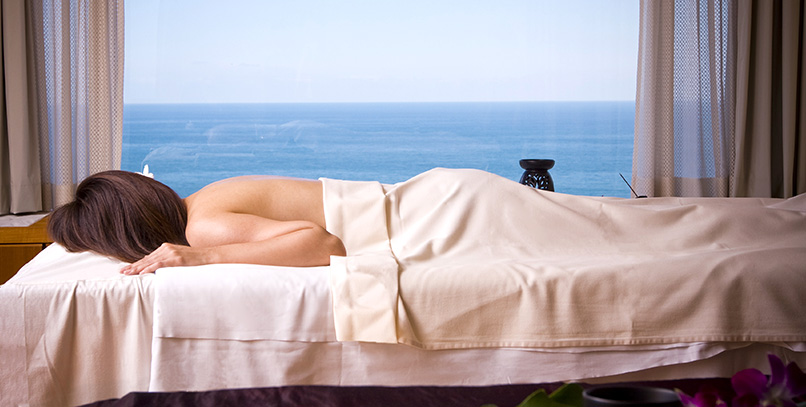 All the treatment rooms are individual with the consideration on the privacy of customers. The area of each room is so wide that you have never seen in urban areas.
At an altitude of 130 meters, the Pacific Ocean spreads over in the windows. Our treatment rooms are placed in such an open space. Today, this luxurious space is only for you being away from urban noises.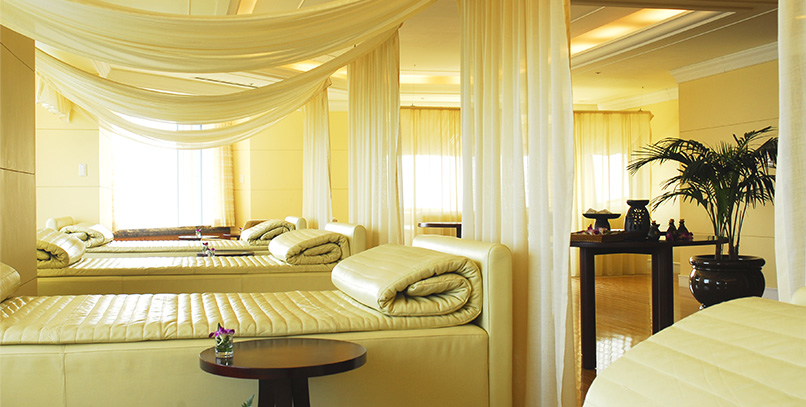 You will still enjoy relaxed feeling at the relaxation lounge after the treatment.
Lying on a canopy bed, you can relish seasonal fruits and drinks at the relaxation lounge. Cherish the moment of relaxation while admiring the seascape right in front of your eyes.
To the guests
Reservation is essential at Banyan Tree Spa. Please contact the phone number below for reservations / inquiries.
We recommend you to make a reservation earliest possible due to congestion depending on a day.
Business hours / 10:00 - 20:00
Spa facility
Banyan Tree Spa Phoenix Seagaia Resort
39th floor of Sheraton Grande Ocean Resort
Treatment room: 7 x single bed rooms / 3 x twin bed rooms
Maximize the pleasure feeling of your spa experience
At Banyan Tree Spa, you can enjoy spa experience in a unique way.
Please take a look at the features. It is a prologue of an ultimate spa experience.
Treatment room
The treatment room provides a relaxing space, where seasonal fruits and drinks are offered.
Spend a surprisingly refreshing time here.
You will feel that your body is recharged and refreshed through the warm interaction with the therapists.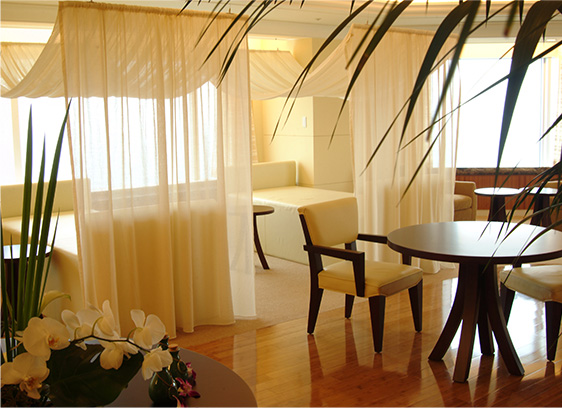 The spa original goods
Take the ultimate spa experience home.
Banyan Tree Gallery has a range of spa accessories including scents with lovely fragrances and the original essential oils.
Don't miss the chance as the original goods are sold only here.
Business hours / 10:00 - 20:00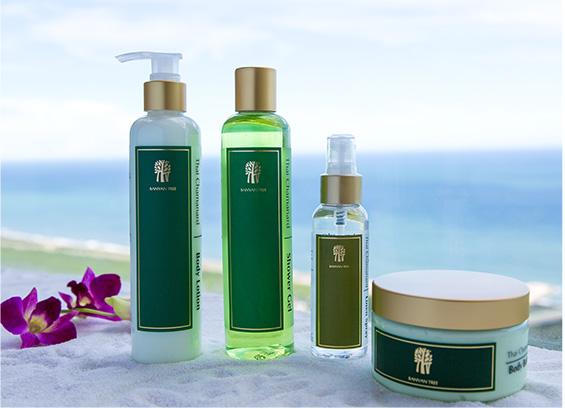 Information
Business hours
The business hours of the spa is between 10am to 8pm. Treatments must be finished by 8pm.
Etiquette
For the consideration of others, we request that visitors keep noise to a minimum. Children are not allowed at the spa unless they are having a treatment, accompanied by an adult. We ask that you respect other guests' privacy by speaking softly.
Please switch your cellular phones and electronic devices off or to silent mode.
Calm Time
Guests will be accorded a 30-minute Calm Time of refreshments and relaxation per visit, except hand, foot, hair, and selected a la carte treatments.
Check-in
Please arrive at least 15 minutes prior to your scheduled treatment to avoid reduced treatment time. A late arrival will result in a shortened treatment to accommodate other guests fairly.
Valuables
We recommend that no jewellery be worn at the spa. The management and staff accept no responsibility for the loss of money or valuables of any kind brought into the spa premises.
Smoking and Alcohol
Smoking and the consumption of alcohol within the spa are prohibited.
Cancellation Policy
A 24-hour cancellation notice is required to help us re-schedule your appointment, subject to space availability. Any cancellation with less than 4 hours' notice will incur a 50% cancellation fee. A full fee will be imposed for a "no-show".
Refund Policy
Treatment packages are non-refundable. Unused portion of the packages are non-transferable or non-exchangeable for another time.
Gift Certificates
Treat a friend or loved one to an indulgent experience. Gift certificates are available for purchase. Please contact our spa receptionist for more details.
Disclaimer
The spa treatments, services and/or facilities received or utilised at Banyan Tree Spa are intended for general purposes only and are not intended to be a substitute for professional medical treatment for any condition, medical or otherwise, that Guests may have. Guests will fully indemnify and hold harmless Banyan Tree Spa, its holding company(ies), affiliates, subsidiaries, representatives, agents, staff and suppliers, from and against all liabilities, claims, expenses, damages and losses, including legal fees (on an indemnity basis), arising out of or in connection with the spa treatments, services and/or facilities.
Banyan Spa Phoenix Seagaia Resort
Hamayama Yamasaki-cho, Miyazaki City, Miyazaki Prefecture
Business hours:10:00 - 20:00
TEL : 0985-21-1351
E-mail :spa-phoenixseagaia@banyantree.com