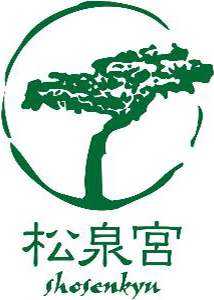 In a deep pine grove, we become one with the nature as we are surrounded by flowers.
Enjoy this unique hot-spring resort style.
There are stories that stimulate your five senses even just by walking on your ways to the hot spring.
Japanese tastes are nicely arranged based on the Himuka Myth that creates exotic atmospheres. The hot springs in traditional Japanese styles are very mysterious.
Large / medium sized open baths, separate baths, gardens filled with flowers, sun soaked pool, etc.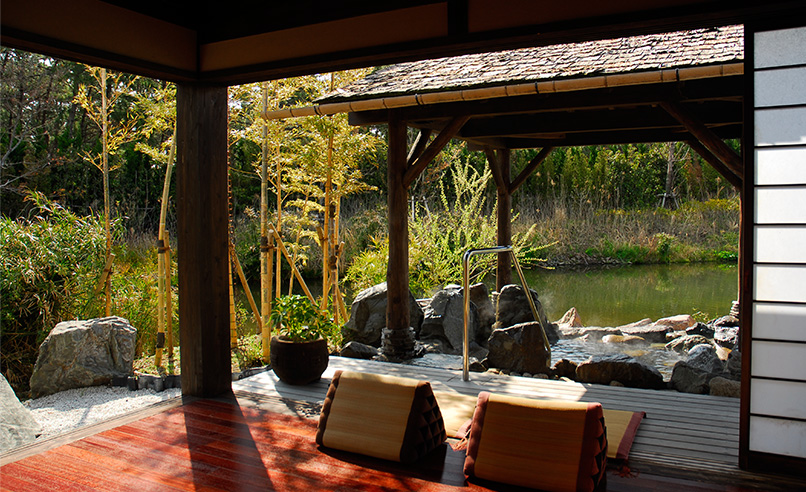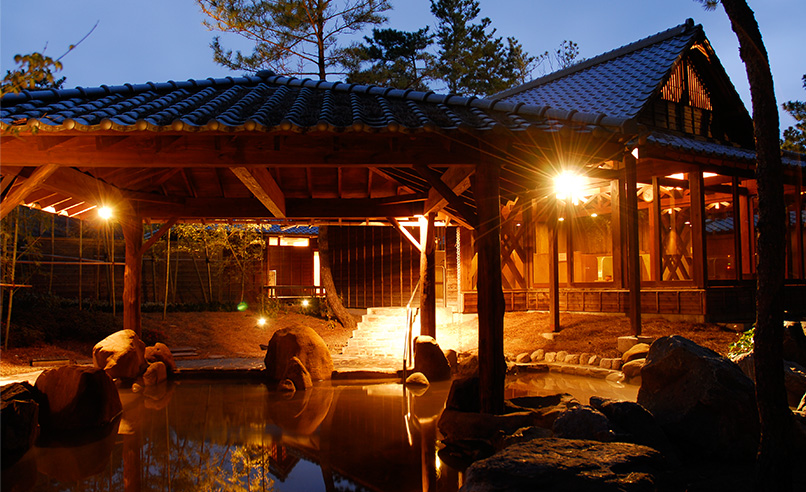 A large bath, medium bath and open air bath… or even a separate bath. The hot spring, which gushes out from a layer of 10 million years old, is effective for various symptoms including beautiful skin.
The spring water, which contains chloride, is 1000 meter underground, which geological layer is 10 million years old.
The fossil components of ancient seawater are extracted from the hot spring, which is effective for various symptoms including recovery from fatigue, blood circulation, joint pains, etc. It is also good for the maintenance of skins as it stimulates the circulation of skins.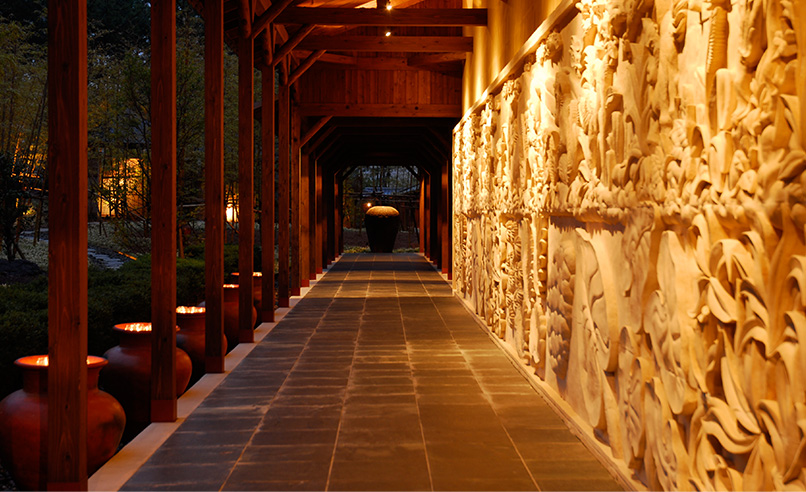 Walking along Yukata Walk to tell you an amazing story before bath.
The 230-meter long Yukata Walk stretches to the hot springs.
Wear your favorite yukata when going to bath.
Shingetsu
A view from the bath expands to an open air…
A romantic warmness that is designed based on myths.
Having the views from the bath likened to the world of Watatsumi, the bath heals your exhaustion with a pond on the other side of the open air bath.
Oshima nuri, a traditional technique of Miyazaki, a lattice shape placed on the ceiling of the indoor bath.
The appearance of the color changes depending on from where you look at it, which represents Japanese four seasons.
Business hours: 6:00~12:00、16:00~23:00 (the reception closes at 22:30)
Business hours will be extended from April 29th (Thursday) to May 4th (Tuesday).
Business hours / 6:00-10:00, 16:0-24:00 (the reception closes at 23:30)
Tsukuyomi
Open air bath that is surrounded by pine groves.
Enjoy sun lights shining between trees in the mornings while at night time you can look up the stars through the pine groves covered with illuminations.
Beyond the door after the corridor is the largest bath in Shosenkyu.
The best feature of Tsukuyomi is an individually established open air bath, which is placed in the pine groves.
You will have a warm feeling and become more open-minded as deeply breathing the smell of pine trees in.
It also has an amazing Moon Lookout to watch the moon.
Business hours: 6:00~23:30 (the reception closes at 23:00)
During the following period, it will not be available due to maintenance work for "Tsukuyomi".
■ Period / September 2nd (Thursday) -September 17th (Friday), 2021
* Excluding September 4th (Sat), 5th (Sun), 11th (Sat), and 12th (Sun)
■ Time / 8: 30-17: 00
The general guests of Sheraton Grande Ocean Resort can use the facility with fees.
Visitors and the guests of the other hotels within Seagaia are permitted to use the facility during the business hours.
Separate bath (4 baths)
Because they are completely reserved, the pine forests in front of you and an open air bath with a flowing fountain are all yours.
In front of the open air bath with a flowing fountain are a fresh looking pond and pine groves.
Being in Mother Nature, your exhaustion starts healing.
The separate baths are placed in an individual building, which has sofa, shower room and basin.
Use your own relaxing time in the hot spring space by having a nap or reading.
Business hours: 7:00~11:30/16:00~22:00
THE LIVING GARDEN
Space for adults along the water. The Living Garden -Water area (tentative name)-
Pass your time with all five senses in this new area. Warm sun rays, a light breeze, scents of natural vegetation, and comfortable furniture provide a relaxing atmosphere where you can enjoy the refined services such as food and drinks. This sophisticated venue and bar, surrounded by Japanese black pines, will open in early October 2017.
During the summer holidays, THE LIVING GARDEN's main pool offers SUP yoga in the early mornings, fun pool play for families at noon, and a photogenic night pool at night. Fireworks at 20:00 every day during summer vacation! (Swimming period / Fireworks period: Summer only)
Information (business hours / prices)
Business hours
| | |
| --- | --- |
| Tsukuyomi | 6:00 - 23:30 (the reception closes at 23:00) |
| Shingetsu | 6:00 - 10:00/16:00 - 23:30 (the reception closes at 23:00) |
| Separate bath (the capacity of each bath: up to four adults) (reservations are essential) | 7:00~11:30(90 minutes system) / 16:00~22:00(90 minutes system) |
Price for the hot springs (for the guests of Sheraton Grande Ocean Resort)
The facilities available: all the hot springs
Hot spring bathing fee (Sheraton · Grande Ocean Resort guests)
Available Facilities: All hot spring facilities
Information: From April 1, 2018, guests will be limited to Sheraton Grande Ocean Resort guests. (free) Customers who have joined our Seagaia Premium Members Club can use it at special rates.
Inquiries for Shosenkyu
Please contact the number below in regards to Shosenkyu.
Phone: 0985-21-1133
Inquiries for Daytrip Hot Spring Plan
Phone: 0985-21-1113 (Reservation Center)
E-mail : yoyaku@seagaia.com